Your source for colorful concrete.
We offer over 800 standard colors and can lab-match custom colors using Helix Integral Color 2X's. These colors are measured and weighed individually, ensuring no waste, and are packaged in 100% disolvable bags protected by a 100% recyclable paper liner. These pigments are post-consumer recycled materials that can contribute to the Recycled Content LEED® Credit.
Helix Integral Color 2X's' Colors are ideal for integrally coloring concrete on areas such as driveways, patios, walkways, athletic courts, stamped concrete and for concrete masonry and stucco. The colors are blended from pure synthetic iron oxide pigments and contain no filler to hinder the performance of the concrete mix. Color applications provide the user with a lightfast, weather resistant, no-maintenance finished product.
Design Resources we offer:
With a team with over 50 years of combined installation and design experience, we can guide you through the process and help select the best products for your next project.
More than concrete. Let us help you to understand how concrete can work with other materials to enhance your design
Check out our integral color chart: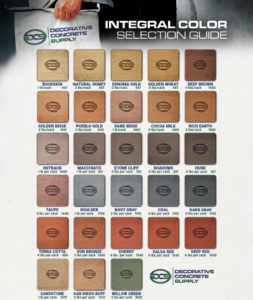 ---
Have a Question?
Don't be shy! Let the team at Decorative Concrete Supply help guide you through the options and opportunities decorative concrete can provide on your next project. Contact us for help on your next project:
[email protected] | 913-422-4443
We love seeing our colors come to life in your designs. Share your project pics with us on social media with the hashtag #DCSKS.
---
See What Decorative Concrete Can Do
---